This holiday season I'm helping Wayfair spread the cheer with their #BlogItForward campaign. For every blog that includes the badge, Wayfair will donate $50 to Habitat for Humanity.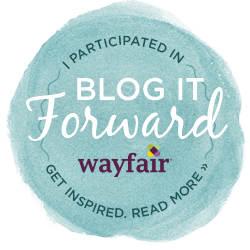 Winter months are a bit of a trial for me (understatement), and many other people. But I'm listening to advice from author Laura Vanderkam and putting into place The Norwegian Secret to Enjoying a Long Winter. Apparently, my winter blues are mostly in my head, and I can choose to put a stop to it. So I'm resolved to look forward to sledding this year (shiver). One proven way to stop focusing on your own troubles is to focus on helping others. In this season of busy, use some old or fresh ideas to foster the happiness of others.
Here are just three ideas to get you started:
Remember someone who had a recent trial. A friend of mine was involved in a car accident about a month ago. Thankfully, she wasn't hospitalized. Although online well wishes piled up immediately, I had a feeling that everyone assumed all was well a couple weeks later. I heard she was still a bit nauseous, so the kids and I picked up some ginger tea, cookies, and flowers from the local grocery and surprise delivered them. It turns out that my friend wasn't actually doing as well as she had hoped, and our little remembrance really boosted her spirit that day. I wish the cookies were home baked and fancy wrapped, but they weren't. It was all I could do to fit this trip into my day, but I'm so glad I did! Moral of the story, remember someone who has gone through a trial this year (divorce, death of a loved one, traumatic move, accident, surgery) with a card, cookies, or a phone call. When everyone else has moved on to new issues, your thoughts and company might make all the difference to your friend.
Last week I wrote about another mindset shift using a different kind of holiday shopping, going from the "decluttering" mode to a "gift giving" mode. For some people, it's really hard to part with things if it seems like items are being trashed or tossed. But if they are looking in their closets for items specifically to pass on to others, it becomes more like gift-giving, and it hits the happy part of the brain. So instead of "decluttering the closet", look for warm coats and sweaters that others could be using this time of year and "gift" them to your local thrift store, charity, or drop off box.
Toy drives are old hat to you and me, but my kids really respond to them. This week I pulled down a toy from our rainy day stash. Of course the little one wanted it. It was shiny! It was new! But my older daughter instantly got that it was for someone else for Christmas, someone who might not have anything otherwise. I remember the first time my own mom gave away a brand new toy, still wrapped in the box. I was devastated, but I guess I learned from it. My own kids are young, but they are old enough to learn about giving to others, too. I just found that one of my favorite, kid-friendly restaurants, 30Main in Berwyn, is doing a toy drive, so we'll head there for dinner next week, and drop the toys off, making it a win for everyone.

PS, Do you blog? You can earn a $50 donation to Habitat for Humanity via your blog from Wayfair, too. I'm tagging Kim Six of The Kim Six Fix and Leslie from Puddy's House to Blog it Forward.