Warning: this glam coastal living room makeover may cause you to want to move to the coast. Or makeover your living room. Or both.
Here's the before:
With the nearby dining room:
If you are thinking, what the??? Please let me explain. This lovely woman moved into this home not that long ago. It's a new chapter in her life, and she's updating her style using much of what she already owns, but adding on the beach flair, because she would be happy if her toes never left sand again. She had gotten as far as purchasing a beautiful new sofa, but was waiting on us to bring the magic.
We didn't import sand for her, but I think we got her pretty close to the ocean with this one-day redesign:
Come on in and let me show you around…
Don't you just love this peacock rug? I knew before we started that it was too small, but bringing in the smaller version allowed us to test the colors. The 8×10 rug is being shipped to her home now.
The buffet/TV stand is a perfect place for family pictures (some frames to be filled) and beach accents.
This chair is not only comfy and sophisticated, it is also a swivel rocker. Oh, and it is made in the USA. Love!
Then we have a beautiful mirrored chest and over-sized ocean art focal piece. Can you hear the waves yet?
The dining room is open to the living room, so she got a little beauty treatment, too.
The entry area, which sits behind the couch, carries the theme. It's always lovely to have a place to drop your keys on the way in, and a mirror to check your look on the way out.
It's all the details and textures that make this space feel pulled-together and inviting.
It only took a few hours to totally transform this living room. I honestly did not want to leave this space! What about you?
Great furniture should have many lives. You'll spy some of these beautiful items in this gal's next home and teal living room redesign, too.
Thanks for the feature over at Crafty Allie's blog, a great idea resource!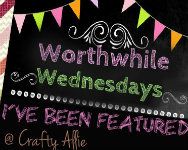 Do you have a favorite detail in this glam coastal living room makeover?